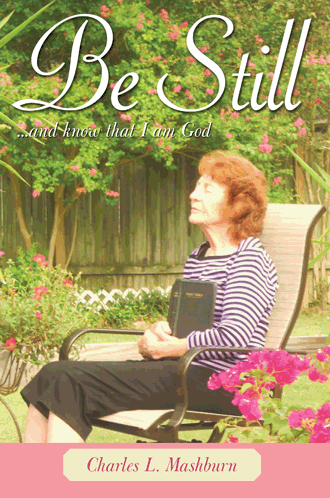 BE STILL
by Charles L Mashburn
Order from AMAZON.COM, OR CLICK ON THE IMAGE -->
In today's chaotic and challenging world, we all need encouragement. For the past fifteen years, my wife and I have utilized various daily devotionals for that helpful dose of inspiration to start our day. This book is written from the perspective of a not-so-perfect Christian in a manner that will speak to men and women of all ages and faiths, and provide them a simple encouraging, uplifting bit of insight for each day of the year. I believe this book will allow those who read it to gain a fresh understanding of God, His love for them, and His plan for their life. And as they begin to understand God's love, they will experience the joy and peace He offers to those who love and trust Him.
The first 105 devotionals deal with Bible verses from Genesis to Revelations that speak about not being afraid. The second phase deals with verses from Matthew through Revelations that speak of God's love. And the remaining days of the year are writings on verses from Matthew through Revelations relating to joy and peace.
The writing of these encouragements has blessed me beyond measure and brought me closer to the Lord than I ever thought I could be. I pray the reading of them does the same for you.
---